What Tools Can Analyze The Growth Of Instagram Followers?
"Do you know where to see the ten brand fans in front of Instagram?" asked me recently by a friend who does Instagram brand marketing. I didn't understand, and I replied, "You can't see every brand's fan change directly on Instagram." Of course, he knows it's a joke. Because if you're going to compare and analyze fan changes in many brands, you can use third-party tools on the market today.
I asked several friends who do brand marketing and got the same answer. I didn't know there was such a tool, if there was that very good. To this end, in order to help my friends do market brand analysis, I looked for a few similar tools to do the next comparison. Then found that this tool is the most cost-effective, it is called BrandFollowers. For quick familiarity and use, I do a simple introduction: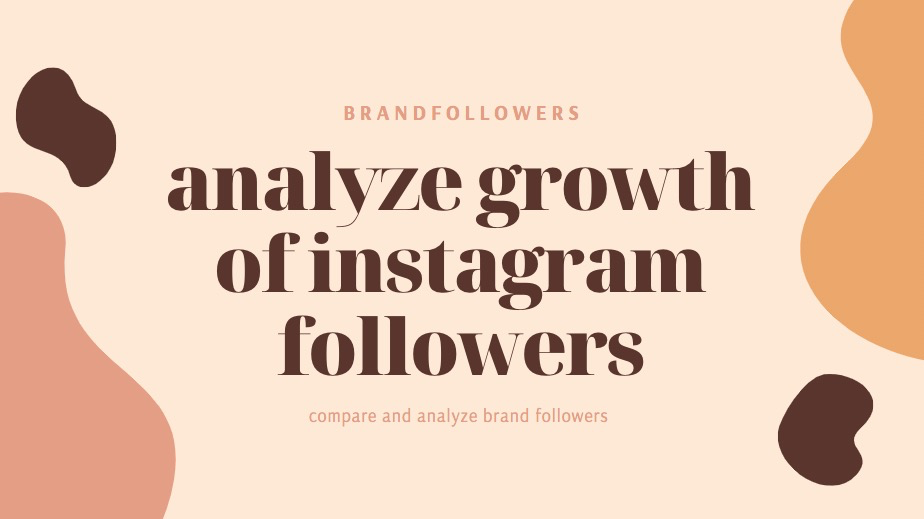 View the list of brands so that you can quickly select the brand analysis object.
Open BrandFollower and you'll be surprised to see the Brand List column. Because it integrates data information on about 300,000 brands on the current Instagram. And you might ask, "What's the use of this brand list?" I'm confused."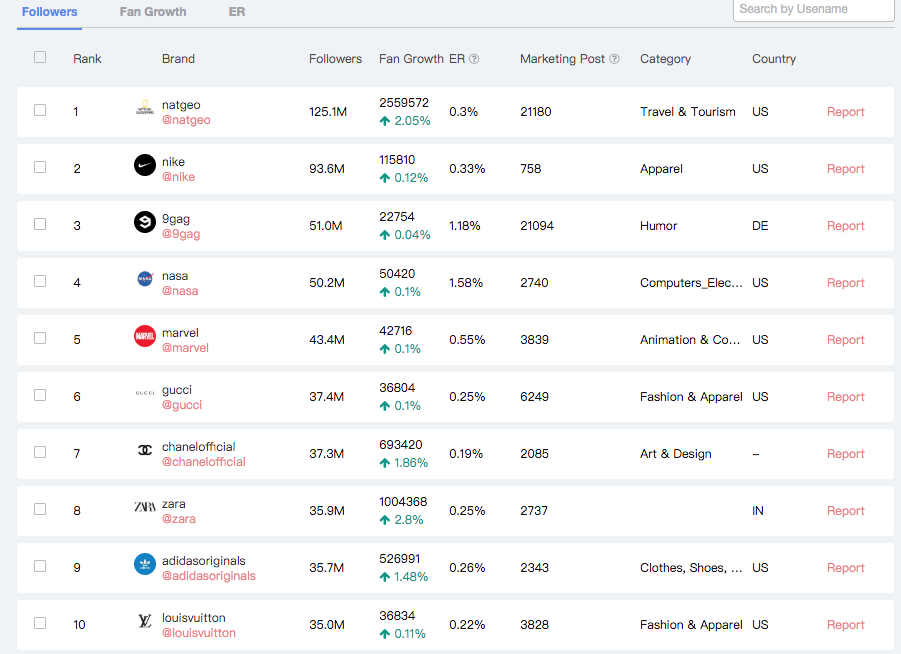 I'm telling you, he can help you quickly view a lot of brand information. For example, if you want to pick Nike, NatGeo these two brands for comparative analysis, you can't be on Instagram one by one to look at the corresponding brand data, which will take you a lot of time, and there is no efficiency.
With BrandFollowers you can quickly find these two brands, which also provides data for you to analyze, there are Rank, Followers, Fan Growth ER, Marketing Post, country and other dimension data, you can record, Compare the data to extract the ideas you need.
Of course, there are three different arrangements, the default is ranked according to the number of Followers, if you need to follow the Fan Growth ranking, do a switch, you will find it quite convenient.
Help view the analytics of the number change of follwers, real-time understanding of fans growth
When you choose one or more brands, you can click on the brand name to enter the fan analytics center, when I open, it is a treasure trove, it can almost help you analyze the comprehensive and professional.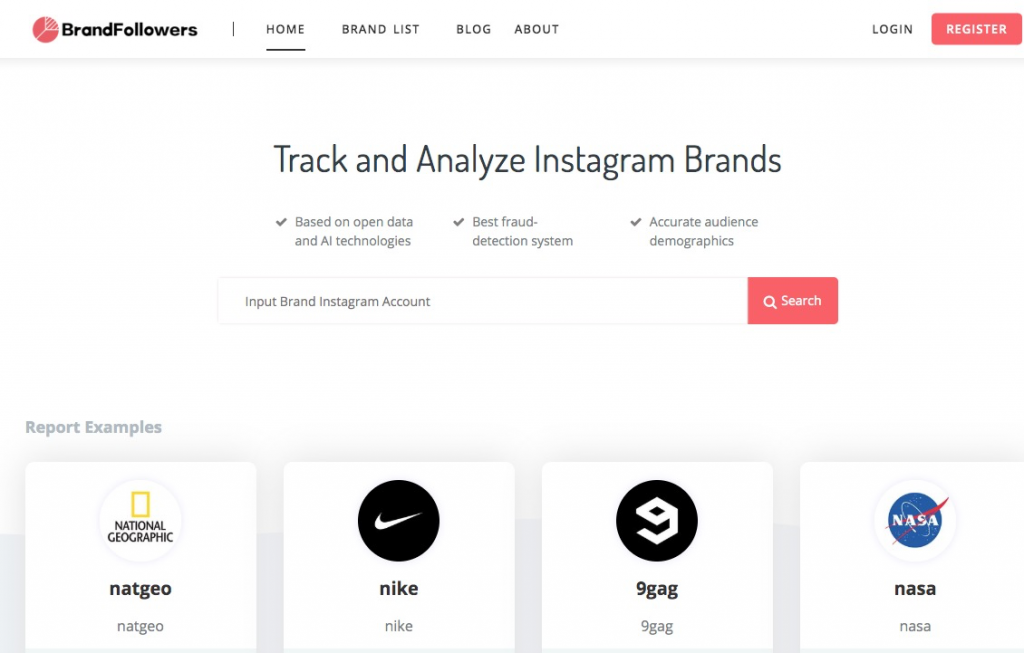 Fan Information Analytics
Do you know which country your followers come from? Do you know what percentage of your followers are male?
BrandFollowers uses big data to count all of its followers. Calculate the percentage of each country of followers. According to statistics, 80% of Instagram users are not American. So, do you really know the country in which your followers are located?
Instagram used to be a market for young people, but now more and more adults are joining Instagram. So using BrandFollowers to see the age and gender of each follower is good.
A better understanding of your followers can better interact with users. More users follow your posts, users will forward and like to comment on your content, get a better engagement rate.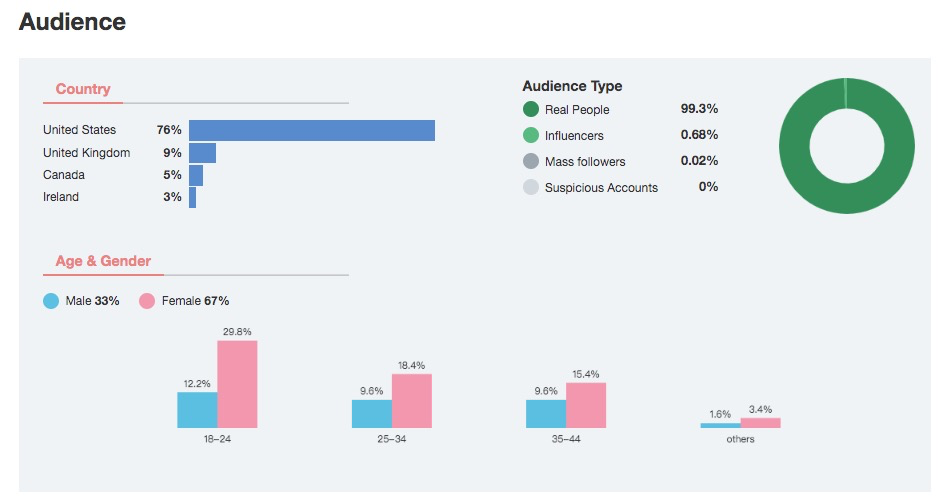 Followers Real and Fake Detection
Fake fans can be harmful, fake followers can waste your posts, pull down engagement rates, reduce the trust users trust you, and possibly delete accounts by Instagram. So it's necessary to check fake accounts.
In addition to checking your fake followers, check competitors and co-operative influencers. Checking your competitors' fake followers gives you a clearer picture of your competitors' marketing performance. Not being fooled by your buying followers, and developing the wrong Instagram marketing strategy.
On Instagram, working with influencers is a choice for many businesses to get more followers. Before we choose our followers, all we have to do is check the authenticity of those followers so that we can choose the most suitable influencers.
In addition to working with influencers and interacting with some friends, it can also bring good marketing results. Before we cooperate, we have to analyze and check the fan of the friend business, have a detailed understanding of the fan base of the friend business, but also check the real situation of the followers of the friends. BrandFollowers will help you a lot.

New fans and unfollowers per day
There are many tools to analyze the growth of Instagram followers, but BrandFollowers is the safest and most convenient tool. Because BrandFollowers doesn't need you to log on to your Instagram account, and you don't need to download the APP. Once you've opened the BrandFollowers website, enter any brand to see how their followers' data is changing.
BrandFollowers classifies follower data into four categories: followers, follows, new followers, and unfollowers.
These 4 types of data illustrate how your followers change each day, and the Instagram marketing effect slated in recent times.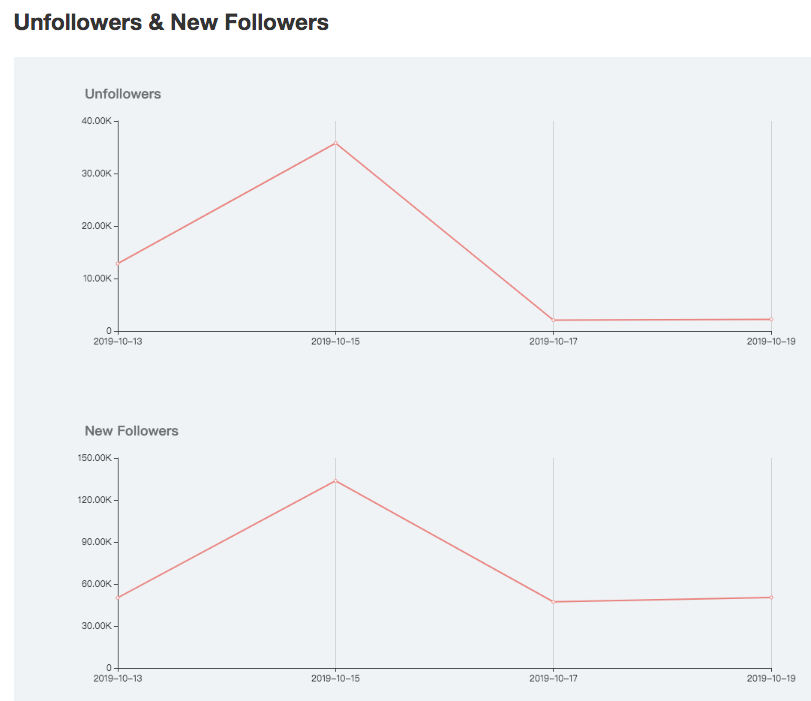 Now, do you find this tool super convenient? Do you think BrandFollowers is a treasure? If you think he can help you, quickly practice, I believe you will like it.