Instagram Follower Count: Check Real Followers In Real-Time – BrandFollowers
Counting the followers of Instagram is a simple matter. You can open Instagram and enter any username to see the Instagram follower count. For example: you enter "Nike" on Instagram, you can see that Nike's followers are 100 million. It doesn't matter if you don't have an Instagram account, you can search for any account follower by entering the URL. The form of Instagram URL is https://www.instagram.com/username/,
Just replace username with the brand name you need. I typed Nike and got the following result. We can also see some account information without logging in, including an Instagram follower count.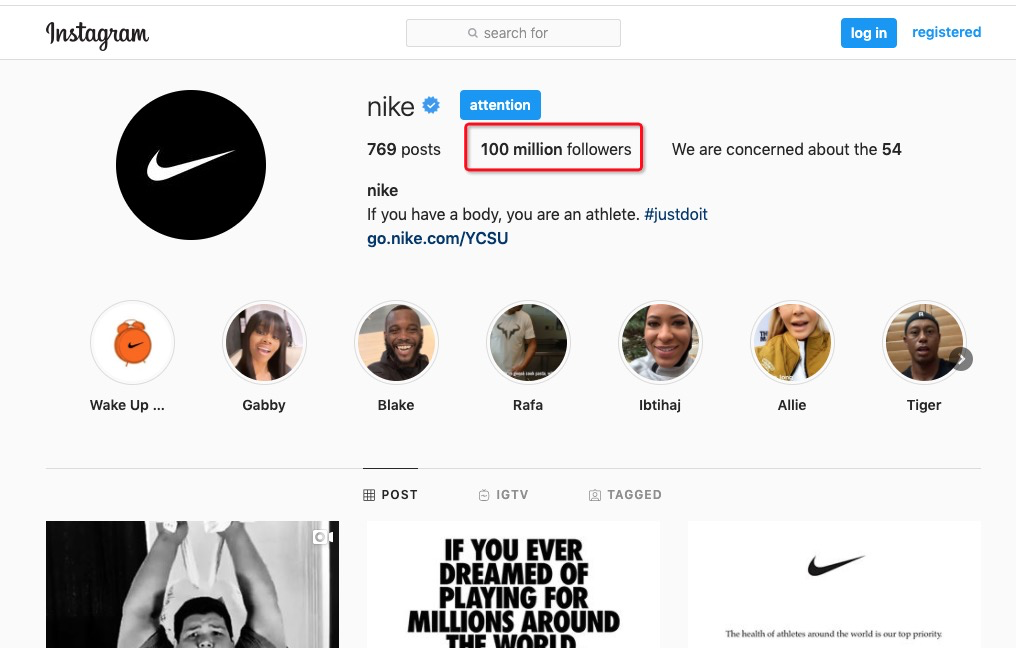 1.The development of Instagram
Instagram is a super social media platform with more than 1 billion monthly active users. According to statistics, Facebook is losing young users, and Instagram is the favorite social platform for young people, especially millennials. If your user base is focused on teenagers, Instagram is an effective marketing channel that you cannot miss.
2.The importance of count the real follower
We all know that follower is a measurable quantitative indicator in Instagram marketing. And real followers can truly reflect the operation of the account. In marketing, based on data, we can help us better arrange future Instagram marketing.
Calculate real followers and use real content to impress customers, rather than a fake number to deceive users.
Fake followers will lower the value of the entire Instagram account. When measuring the value of an Instagram account, the number of followers is just a reference data, and the real value of the Instagram account is supported by real users.
3.Introduction of tools for real-time count followers
Here, I use a free Instagram Audit tool to count real followers. Brandfollowers is used for Instagram follower analysis. Brandfollowers currently has millions of Instagram account data. Enter any Instagram username and it can generate a detailed account report in 1 minute. It is the most advanced Instagram analysis tool, analyzes Instagram account data, analyzes Instagram popular content, and you can bookmark any favorite account.
The founder of Brandfollowers is a brand marketing expert with ten years of experience. Since 2013, he has achieved great success in Instagram brand marketing. In order to help more people make progress on Instagram, he created a tool for checking followers in real-time – BrandFollowers.
BrandFollowers analyzes real followers through 24 indicator data. And BrandFollowers divide followers into 3 categories: real people, influencers, and mass followers.
Real People: Real high-quality audience
Influencers: Followers with more than 3000 followers.
Mass Followers: check fake followers.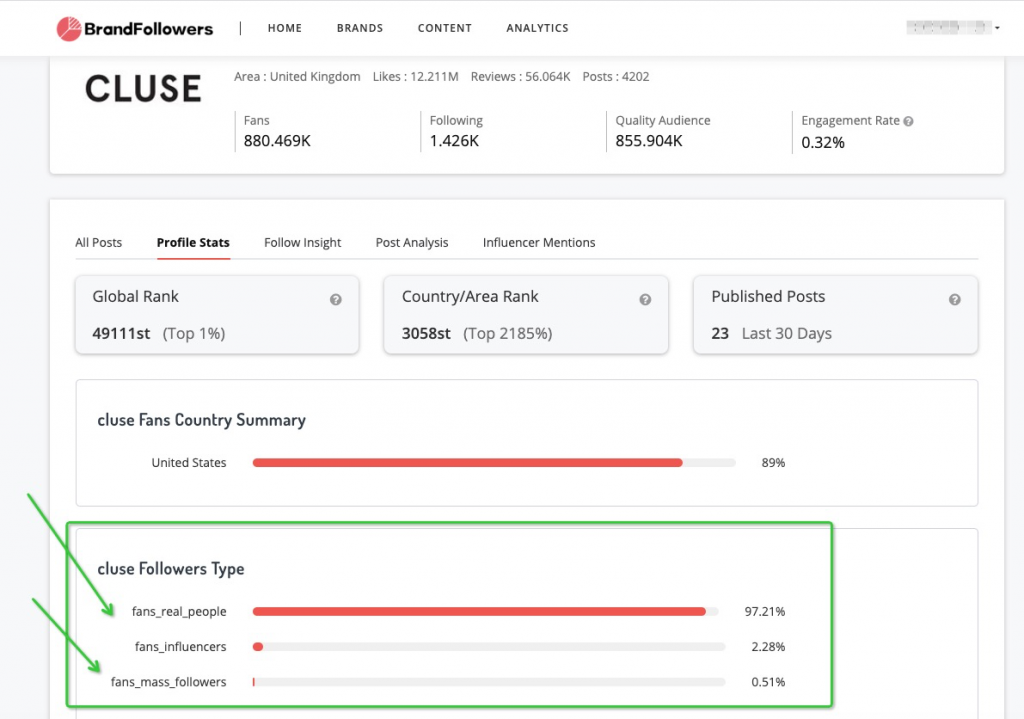 Counting Instagram followers is simple, but checking real Instagram followers in real-time is difficult. There is an open secret on Instagram, that is, most accounts have purchased fake fans. When counting Instagram followers, if we want to get real and public data, we must count a real Instagram follower. Now we explain BrandFollowers how to count Instagram real followers?
BrandFollowers analyzes the characteristics of fake fans and then expresses these characteristics in the form of data. BrandFollowers scores each item of data, and then comprehensively judges the overall data performance.
What parameters does BrandFollowers mainly analyze when counting real fans?
Demographics of followers, including age, gender, country, etc.
Engagement rate of followers, interactive participation between followers and Instagram account
Follower's account information, for example: username, number of postings, following/followers ratio, etc.
Follower data changes. Unfollow, new followers, following, and followers four data changes.
4. How to use BrandFollowers to count real Instagram followers?
BrandFollowers is a free online tool that can be used directly without the authorization of an Instagram account. After logging in to BrandFollowers, enter the username of any Instagram account in the search box on the homepage, and you will get a free account analysis report.
For example: I enter the Instagram username "CLUSE" on the homepage. I got such a report within ten seconds. It counts real Instagram follower data in real-time.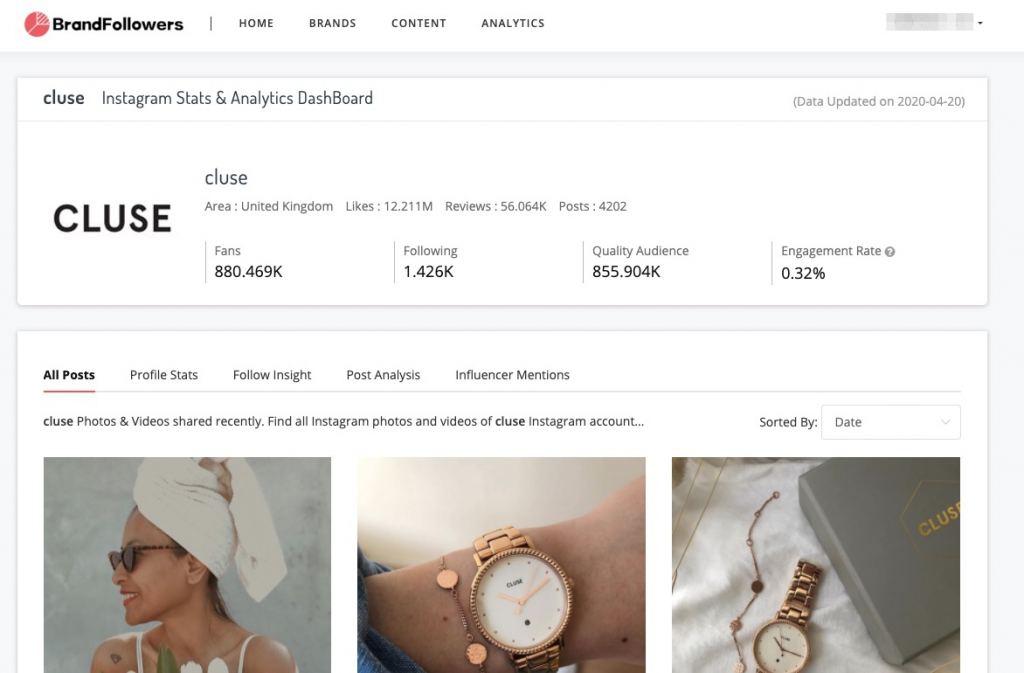 5. Which Instagram follower related data can be counted in real-time?
To really understand an Instagram account, it is not enough to observe the change of single data. The most important thing is the analysis of changes in the entire data.
I use BrandFollowers to check and analyze each Instagram account. BrandFollowers calculates each data indicator in real-time to analyze the changing trend of the account.
Post: Shows the latest popular photos and videos of each account.
Demographics: The country, age, and gender ratio of Instagram followers are counted.
Instagram audit: Check real followers in real-time.
Engagement rate: The average engagement rate and weekly engagement rate are counted.
6.Benefits of using BrandFollowers
With BrandFollowers, you can:
Check any Instagram follower data in real-time
No need to download any software, you can use it by opening the webpage.
No need for Instagram authorization, no need to worry about the security risks of Instagram account.
Completely free.
Check and calculate followers, and generate report display
You can use BrandFollowers to check any Instagram account.