HypeAuditor vs BrandFollowers
With the development of Instagram, more and more brands and influencers have emerged here. More and more brands have established accounts and operated on Instagram. At the same time, a group of internet celebrities has also appeared. They have loyal fans and make money for brand sales. But in brand operation and KOL marketing, marketers have encountered a problem, false followers. How do brands identify fake fans of their accounts and influencers? Here we compare two Instagram audit tools.
HypeAuditor
HypeAuditor is a platform generated for influencers marketing, where brands and agencies can find influencers that are right for them, and audit follower reports for these influencers. HypeAuditor finds that it is increasingly difficult for brands to find suitable influencers, so it has launched such a tool to help brands have the latest and most realistic data at any stage of KOL marketing. HypeAuditor is committed to creating an industry-standard analysis platform for transparent and fraud-free influencer marketing.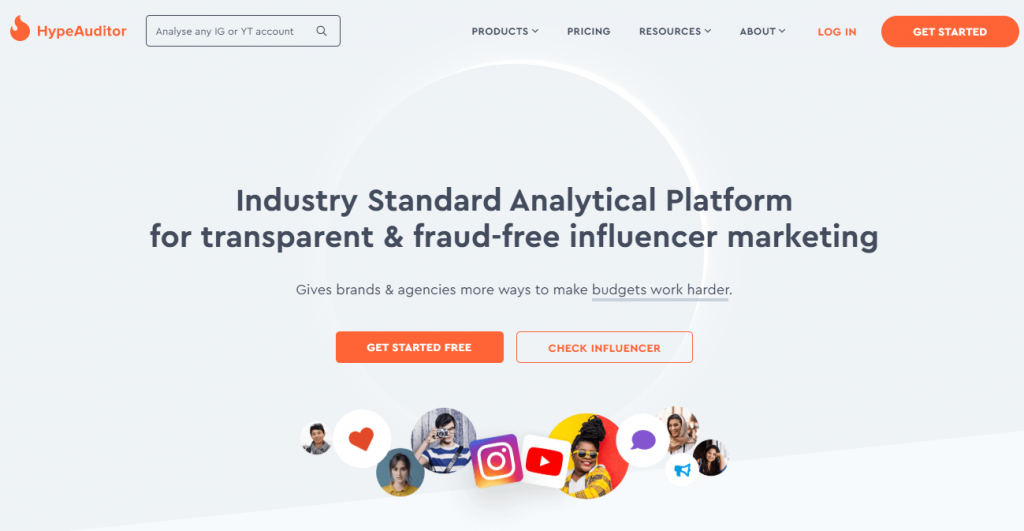 HypeAuditor already has tens of millions of follower analysis reports. In this report, HypeAuditor detailedly examined the data of 20 fans of followers, and used the performance of these data to score the true followers of influencers. The highest score is 100, passing 60. The higher the score, the higher the authenticity of the followers of influencers.
BrandFollowers
BrandFollowers is a platform for analyzing Instagram brand followers. In BrandFollowers, enter any Instagram brand name and you will get a brand follower analysis report. In today's noisy social network environment, it is becoming increasingly difficult for brands to gain loyal fans, and BrandFollowers has solved this problem by generating an analysis tool that can check its competitors' brand followers. Help brands quickly get data from competitors, use the data to analyze competitors' operating strategies for the first time, and learn from them BrandFollowers allow brands to win new social fans and manage competitive social spaces.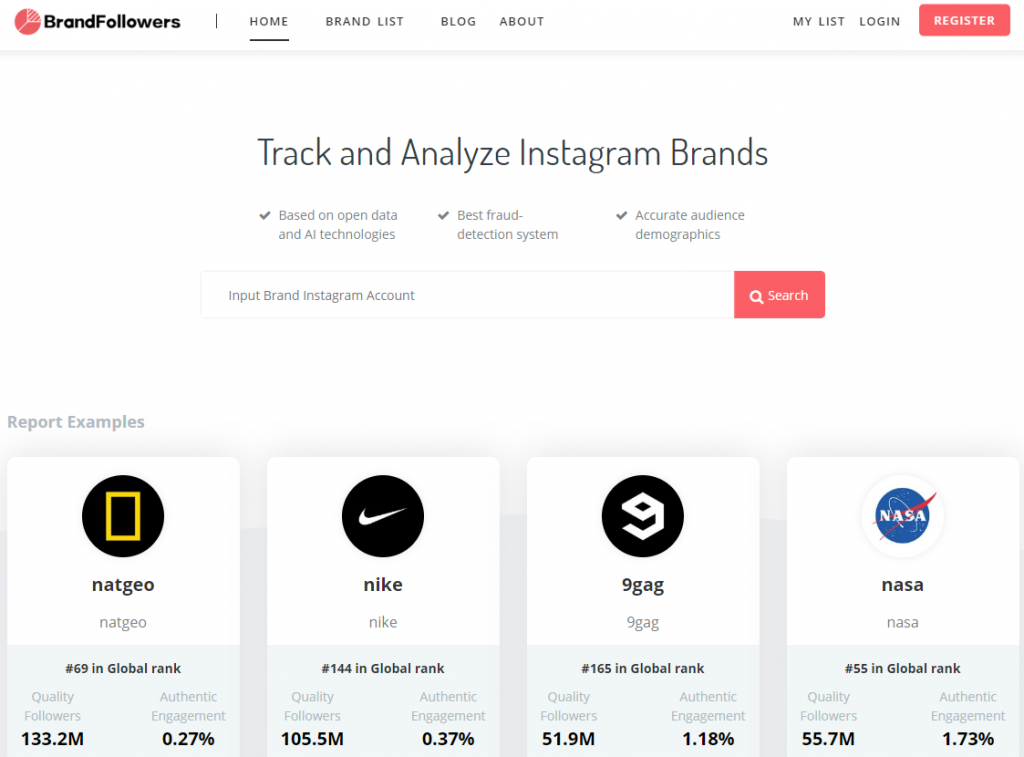 BrandFollowers has generated millions of brand analysis reports and charts the changes of followers. In addition to tracking daily followers and followers, BrandFollowers can also calculate engagement and comment rates. BrandFollowers then analyzes the country, age, and gender of followers. Most importantly, BrandFollowers checks whether followers of any brand contain fake accounts.
Function comparison:
| | | |
| --- | --- | --- |
| Features | BrandFollowers | HypeAuditor |
| Check object | brands | influencers |
| Platform | Instagram | instagram,youtube |
| Brand ranking by followers | ✅ | ❌ |
| Brand ranking by Engagement rate | ✅ | ❌ |
| Brand ranking by Fan growth | ✅ | ❌ |
| Follower Demographics | ✅ | ✅ |
| Check fake and high-quality accounts | ✅ | ✅ |
| Followers and following | ✅ | ✅ |
| New followers every day | ✅ | ❌ |
| Unfollowers every day | ✅ | ❌ |
| Engagement rate | ✅ | ✅ |
| Like and comment statistics for each post | ✅ | ❌ |
| Influencer Mentions | ✅ | ❌ |
| No login required | ✅ | ✅ |
| Pricing | free | $99 and $299 |
Check the principle of fake followers:
HypeAuditor's audit principle:
HypeAuditor checks the overall follower data indicators of each account, judges their performance for each data indicator, and then integrates each data indicator to give a score, which is used to represent the authenticity of followers.
The data indicators examined are:
Follower demographics, country, language
Follower data changes
Follower engagement rate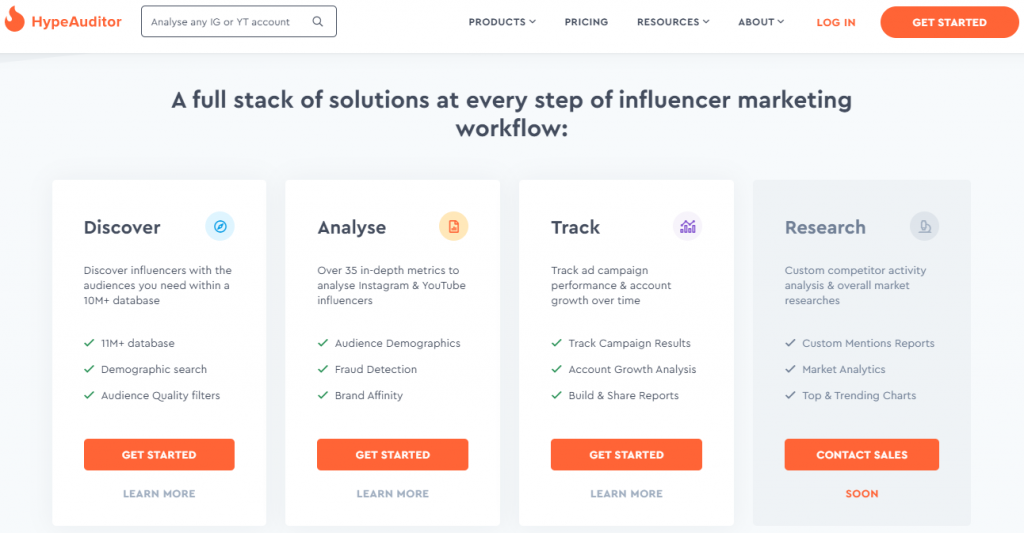 BrandFollowers audit principle:
BrandFollowers carefully checks the performance of each follower account, judges the authenticity of each follower account, and then divides each follower into high-quality accounts and fake accounts. The data examined are:
Follower engagement rate, like / comment ratio.
Followers and unfollowers change intervals.
Demographics of followers.
Interactive connections between followers and brand accounts.
Follower account information, number of posts, following/followers ratio, etc.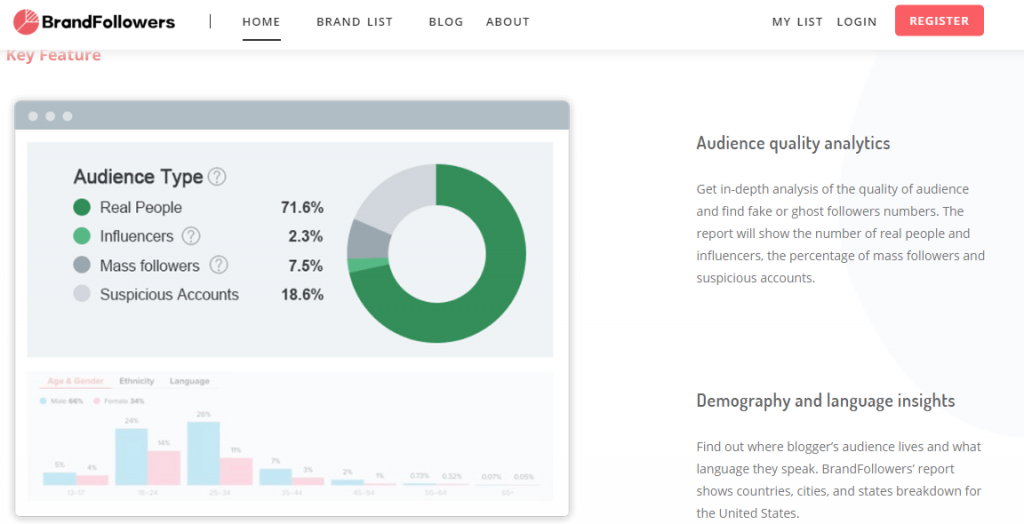 price comparison:
HypeAuditor
| | |
| --- | --- |
| number of report | Pricing |
| 1 report | $30 |
| 10 reports | $149 |
| 50 reports | $349 |
BrandFollowers
The above is a comparison of the two Instagram tools. Their functions are similar, but the main analysis objects are different. If you need to analyze and check your Instagram account, both tools are good choices.