How to Check And Track Fake Instagram Accounts?|BrandFollowers
Instagram is a super-large platform with one month of active users reaching 1 billion. Instagram is full of business opportunities and trends that affect the world. Many brands and users want to succeed on Instagram, but they use incorrect methods, such as buying a large number of fake followers. These fake accounts will mislead many people, so how to determine the authenticity of the brand's followers? How to check the fake account in the brand?

Check for fake account tools – BrandFollowers
With BrandFollowers, it's easy to check for any fake followers in Instagram brand followers. We want to make influencer marketing more transparent, which is why we have developed a special ig audit instagram tool, BrandFollowers.
The function of BrandFollowers:
1. Check and track all the information of brand followers, and judge the authenticity of users by analyzing various data.
2. BrandFollowers divides followers into four categories: real users, influencers, Mass followers, and Suspicious Accounts.
The judgment of the real user: Real users have a stable IP, interact with the brand, and the post will be updated in the account.
The basis of the judgment of influencers: It has more than 3,000 followers, and the engagement rate is more than 2%.
Mass followers judge the basis:
The brand began to use Instagram ads to promote their posts. But in this case, the increase in brand followers will not get more than 5K in one day.
Brand artificially increases the number of followers by purchasing robot followers.
The brand did not release any content but added a large number of followers in a short period of time.
Suspicious Accounts judgment basis: An account that is banned by Instagram is an account with doubts.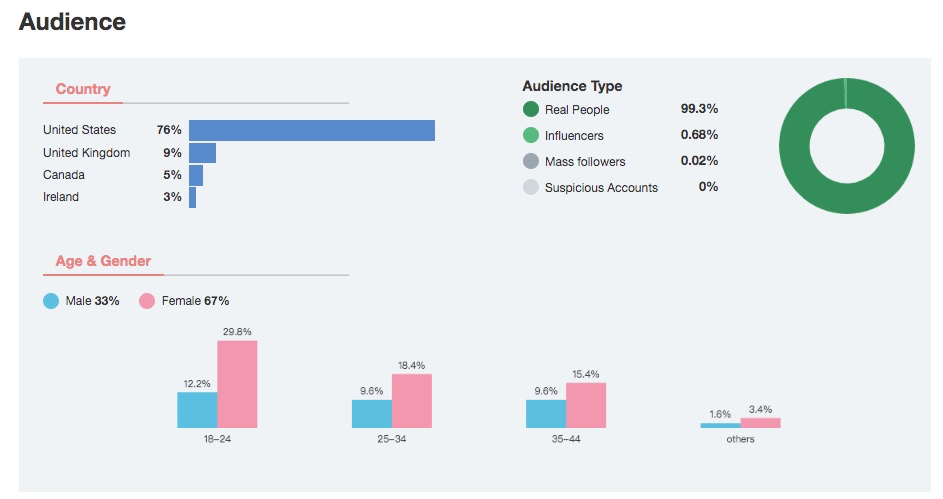 3. In BrandFollowers, enter any brand name and you can check for fake accounts in your account. A detailed analysis of the followers.BrandFollowers analyzes the country, gender, and age of followers. It also counts the changes in the number of followers per day and graphically displays the data for new followers and unfollowers.
A hazard of fake accounts
Sometimes, in order to get a lot of followers in a short time, we chose to use third-party apps to increase followers.
These third-party apps do help you get more followers, but those followers are very dangerous.
Because every app has some integrated Bots. These integrated bots will send hundreds of fake followers to your account, and these fake followers will disappear within 24 hours.
At the same time, third-party apps make money by showing your ads.
This kind of work, although it increases the followers in your account in a short time, is more harmful. These third-party apps are very likely to cause your account to be banned.
Because when Instagram notices your fake fans, they do one or two things.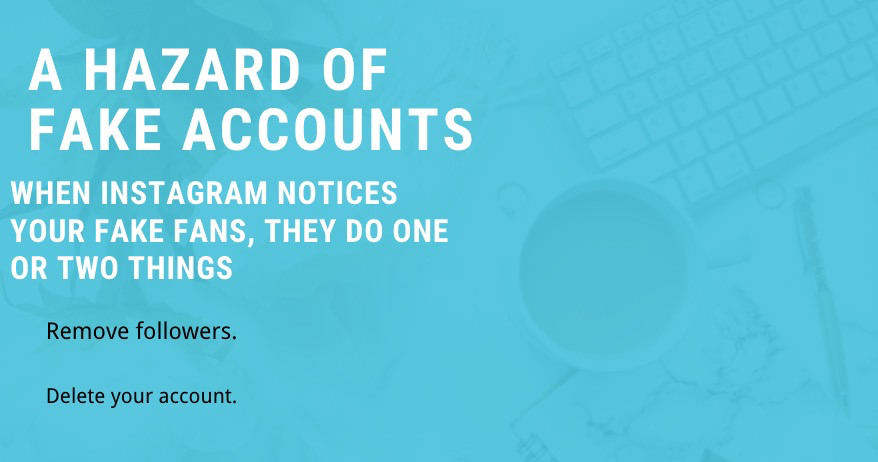 Therefore, those who add followers to free third-party apps actually increase the chances of disabling your account.
Because Instagram has been monitoring the use of robots to generate accounts for fake followers. Therefore, if you continue to use third-party tools to add false followers, you will end up losing your account.
I don't recommend using apps to attract followers.
How do I identify a fake Instagram account?
BrandFollowers With the Instagram review tool, you can discover how many real followers are. Help marketers check influencer's Instagram account for fake followers and favorite people.
We use machine learning to find patterns of behavior that correspond to real people, automated robots, or sporadic use.
BrandFollowers judges the fake account by analyzing the following five types of data:
Audience insights: the geographic location and gender of the followers. Compare the influencer's audience to the target audience.
Followers, likes and the authenticity of the comments. We use machine learning to find patterns of behavior that correspond to real people, automated robots, or sporadic use.
Follower accessibility: Find out how many followers may see your sponsored posts.
Impactor Benchmark: Compare engagement indicators for other influencers.
Audience Quality Score: Measures the audience's quality that will see and respond to sponsored posts. AQS can decide within a minute whether it is worth working with the blogger.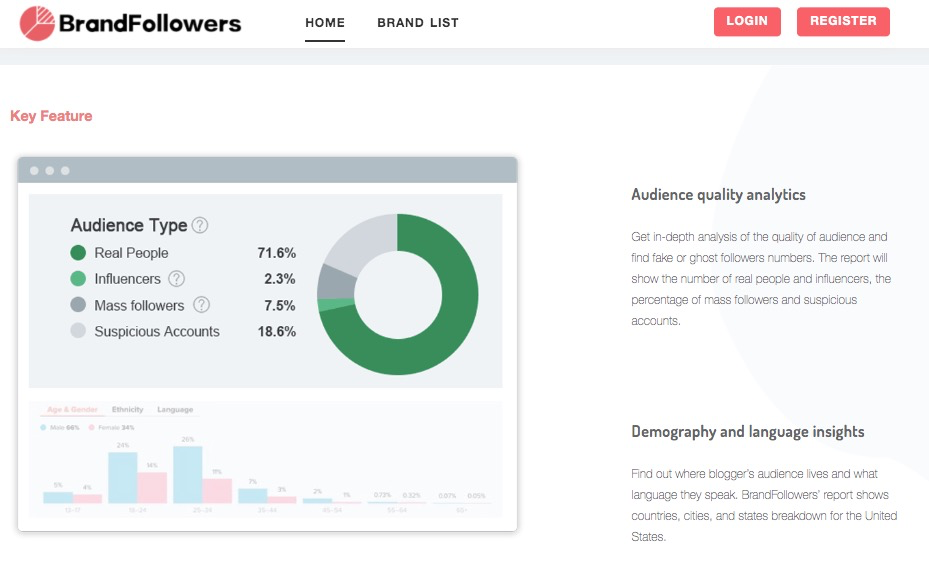 BrandFollowers divides fake accounts into two categories:
1. Mass followers:All of the Mass accounts are focused on a lot of people. Instagram stipulates that an account can only focus on 7,000 people at most. These roaming accounts are concerned with more than 6,000 people.
In addition, they have too many followers, so you can't see your posts in their news feeds, they don't like or comment on your posts. These accounts will be identified as Mass followers by us.
2. Suspicious Accounts:Suspicious Accounts are accounts that are banned by Instagram in the user's followers. Instagram monitors cheating on each account, and if Instagram detects serious cheating on any account, Instagram deletes the account.
Check the authenticity of your account:
How do I check the authenticity of my Instagram followers?
I often use an online tool to check the followers of my account. I want to know more about my followers and can build more connections with them.
This tool is BrandFollowers. Just log in and use it, I use it to check out my fans, including high-quality audiences, fake accounts, and influencers.
In addition to my account, I can also check the competitor's account, generally, get the following data: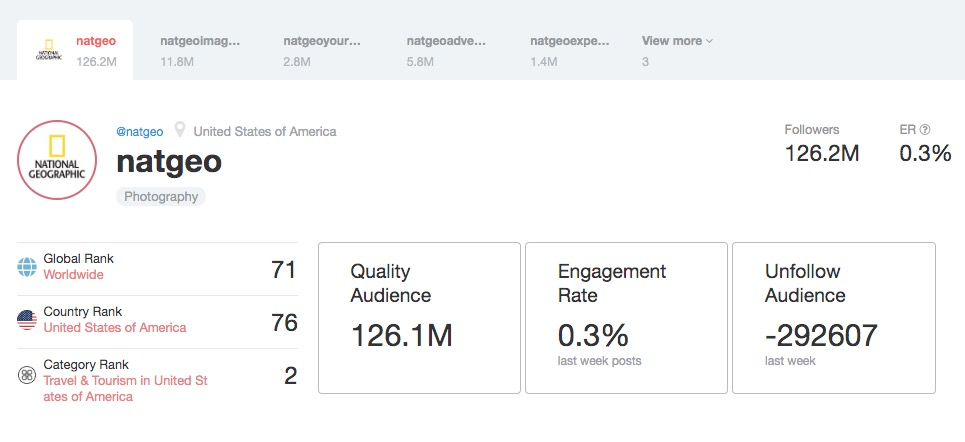 If you want to know more about your followers, you can use it, it's a free tool.
to sum up:
It is necessary to check and track the authenticity of the account with BrandFollowers. Removing these fake accounts can increase the brand's engagement rate, cover the posts to more real people, increase brand awareness and gain more conversions.